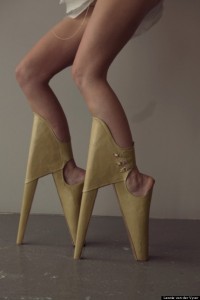 Absolutely. All footwear is made using what is called a "last", a solid plastic form around which shoes are manufactured.  In order to sell well, "lasts" should fit about 85% of consumers. Fashion shoes are not by nature uncomfortable, but many are made only in medium widths, so it your foot is more on the narrow or wide side, you may or may not find comfort a challenge when walking in high-fashion shoes. Know that "Fit" and "Comfort" should work together. If your feet and narrower or wider, ask your sales associate for guidance on which styles best fit your foot. And if your feet are different sizes as most of our are, always fit the larger foot.
Basic, performance or fashion sneakers, which more and more are being re-inspired by top fashion designers can be comfortable at luxury to highly affordable prices because the "last proportions" and the "comfort technology" is established over many decades of research and production. Many fashion Brands are now making sneakers in an amazing mix of patterns, colors,  materials and details, from metallic trims to pyramid studs to buckle treatments, re-discovering and re-inventing proven great fitting comfort constructions in their own image. Some designers are even making high wedge or high heel sneakers but with true sneaker technology. And this is true not for just sneakers. Birkenstock-like sandals abound in the fashion world from flat to flatform to higher heel height interpretations. Flattering styles with high-flex, high-tech cushioning and arch support systems are now available from flats to high at almost all price points. Almost every designer Brand knows that consumers demand comfort and as result have built some level of   comfort into their footwear. But it's up to you to make sure the style you select fits your foot perfectly while in the store.
Just know that true comfort can come at a cost. Creating and producing truly comfortable shoes that last over a long period of time requires a lot of research, high-technology, high-quality materials and specialized production methods. Nothing good comes cheap. Like anything in commerce, the more specialized, complicated and unique the product, the higher the cost. Whether made with machine or by hand or a combination of both, rare footwear can be dearly priced. Check out Chanel's amazing selection of sneaker boots and shoes. Ash, Zanotti and Camper make super fashion-comfort styles. But putting a price on pleasure is an individual choice. And to some, extraordinary beauty and high functionality can be priceless. But be careful, foot pain can lead to joint pain and that can have lasting consequences, so be careful. Wear your fashion wisely so you'll always feel great while looking great.